73 YEARS – 3 GENERATIONS
Marcus Kern was born on a farm three miles north of Frankenmuth on January 9, 1909, and resided in Frankenmuth his whole life.  He married Esther E. List of Frankenlust, MI on June 14, 1925.  Marcus drove a gasoline tank truck to support his wife and two sons, Robert "Matt" and Charles, for 29 years.  Then in 1949, on the advice of his doctor, he was told to find employment that would keep him indoors.
The Kern's purchased the assets of Charles Vanek's Corner Grocery at 995 S. Main St. and opened for business August 1, 1949.  Original intent was to operate a "Mom and Pop" neighborhood grocery, but within three months, Marcus was utilizing his talents of manufacturing homemade Bavarian Style sausages to complement the groceries and fresh meats.  The sausages were painstakingly stuffed with a small hand cranked stuffer by Marcus and then hand twisted into links by wife, Esther.
Sons, Robert "Matt" and Charles, worked in the store through high school.  They each served two years in the U. S. Army then quickly rejoined the family business.  In 1958 a partnership was formed with Marcus, Robert, and Charles. The name was changed from Kern's Corner Grocery to Kern's Sausages.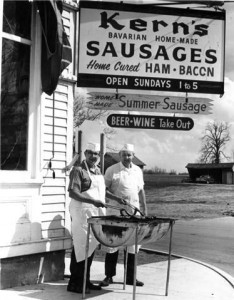 In the mid 1950's , Kern's introduced the concept of barbecuing bratwurst in the summer as an alternative to hot dogs.  Historically, bratwurst was considered a wintertime sausage by local residents because of the long standing tradition of "schlactfests" and lack of refrigeration.  Kern's set a small charcoal grill on the front steps of the store offering free samples and a whole new marketing concept began.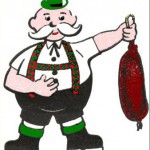 Kern's Sausages was among the very first businesses in Frankenmuth to promote the Bavarian theme.  In 1957, the logo of the little Bavarian sausage man in lederhosen was adopted.
Marcus passed away on June 22, 1969 and his sons purchased the interest of their father to continue the business by the second generation.  Robert and Charles's children helped out "as soon as they could see over the counter" for a third generation of Kern's.
On July 1, 1974, Kern's Sausages moved across the street into a new modern facility, which is the current location at 110 E. Jefferson.  It was at that time new sausage making equipment and a new automatic smoke house were added.  The move into the new building also provided the opportunity to add an in-store bakery.
Business continued to improve over the ensuing years, with Kern's offering 34 varieties of homemade Bavarian Style sausages, baked goods, a wide variety of cheeses, fine wines, and German import foods.  The selection of domestic and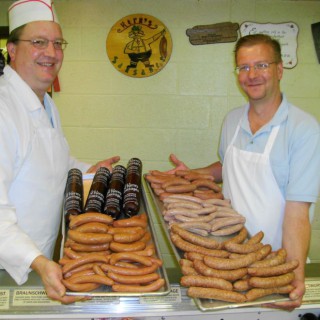 imported beer grew to one of the largest in the area.  Catering became an important part of the business too.
In 1996, Charles's sons, Ron and Kevin, took over the business to continue the family tradition.  It has been the belief of three generations of Kern's that sausage making remains both an art and a science. From the start, Marcus believed that quality was more important than quantity, a belief his grandsons hold today.