Enter our door in the morning and you'll be drawn to our
bakery by the fragrant aroma of our fresh baked breads, rolls, and buns.
Our brat buns are always in demand featuring a top slice so your favorite toppings won't fall out. Be sure to call in large orders. We can reserve small orders too.
Traditional German Christmas cookies are made with Kern's family recipes. Preparing Springerle is a process that requires work spanning over three days. The rich flavor of Lebkuchen topped with an almond sliver like Grandma used to make is simply irresistible.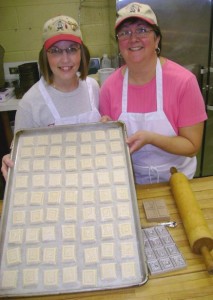 Springerle and Lebkuchen are available in our bakery from Thanksgiving through Christmas while quantities last. We also have Christmas cut-out cookies.