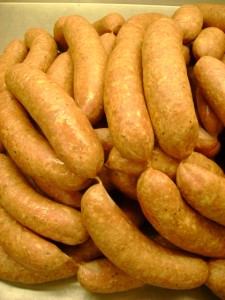 Sausage making is both an art and a science, and while commercial packing houses across the country have made it purely a science, we at Kern's still have the feeling that it is more an art than a science.  Firmly believing in the philosophy that quality is more important than quantity, we take pride in using only top quality carefully trimmed meats in all of our products.
Carefully blended spices including salt, pepper, allspice, coriander, mustard seed, paprika, onion, garlic, fennel, nutmeg and many other spices all add that subtle touch that transforms a cut of meat into a tasty sausage product.  However, we take pride in the fact that the world's most popular flavor enhancer, MSG, is not used in any of our products.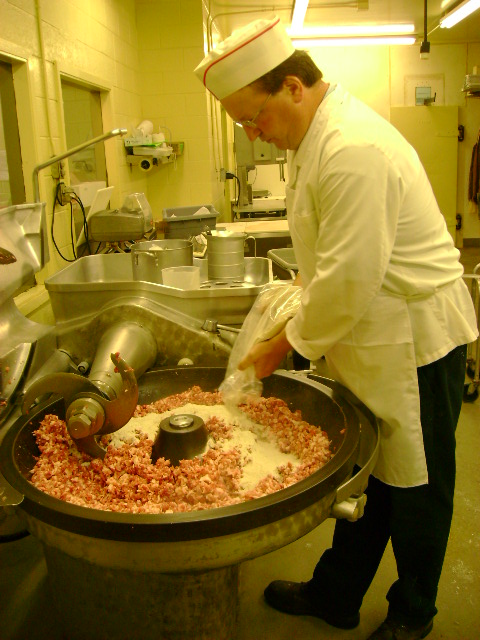 Spices are added to the meat cuts in the chopper which transforms the ingredients into the proper texture for each individual sausage product.  From the chopper they are transferred to the stuffer which utilizes both natural and artificial casings for the different sausages.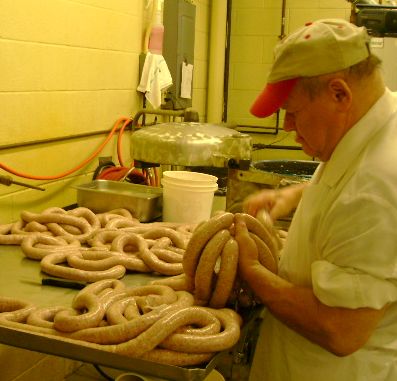 Only pure hickory wood is used to bring out that special flavor and rich color in all of our smoked sausages.
We hope you enjoy learning more about our 32 varieties of sausages. Please view the menu at the right for easy browsing.
August 1, 2021 will mark our 72nd year making sausage at Kern's in Frankenmuth, Michigan!